Regular price
Sale price
$21.99
Unit price
per
Sale
Sold out
The same award-winning Rumble Jar filter, just twice the size! This larger, half gallon version works great if you're brewing for more than one person or if you'd like your batch of cold brew to last for a few days. The filter is compatible with standard half-gallon/64oz Mason jars* (not included).

The brewing instructions couldn't be simpler. Just take your favorite coffee beans, grind them coarsely, add tap water and give it a rumble. Total prep time takes less than a minute, and by the morning you'll have delicious cold brew coffee ready to drink.
To see what makes this filter ideal for cold brew, check out this product teardown.
Includes: 
+ 18/8 Stainless Steel Cold Brew Filter, compatible with any standard 64oz (Half-Gallon) Mason Jar*
+ Food-Grade Silicone Cap, Available in 2 Colors (pics below)
+ Cotton Filter Bag (optional 2nd stage filter)
*Mason jar not included. See which jars are compatible
Need a smaller size? Our smaller, quart-size filter is available with or without a Mason jar. 
Contents

+ 18/8 Stainless Steel Cold Brew Filter, compatible with any standard 64oz (Half-Gallon) Mason Jar*
+ Food-Grade Silicone Cap, Available in 2 Colors (pics below)
+ Cotton Filter Bag (optional 2nd stage filter)
*Mason jar not included.
Detailed Features

Both Rumble Jar and Rumble Go have similar features that made them both crowd favorites.

The Filter. We engineered an entirely new filter designed specifically for the cold-brewing process. This is not one of those run-of-the-mill cheap mesh filters originally designed to brew hot coffee and then just repurposed for cold brew. Instead, our filters are etched out of a single sheet of 18/8 (Type 304) stainless steel, which makes them lightweight but shockingly sturdy. They're designed to last for years and are a total cinch to clean. Most importantly, the filter's 200-micron hole size allows water to circulate at an ideal rate for steeping coffee that has been ground coarsely, which is the same way the pros make cold brew. This filter is also flexible enough to allow a person to brew with medium-size grounds (commonly found in pre-ground packaged coffee). This filter contains no plastic parts, and it does not require disposable paper filters or reusable felt ones that are a pain to wash and end up costing you money to replace later. Those paper/felt filters just soak up the flavorful oils that are the hallmarks of good coffee anyway, so you won't miss them.  

 

The cap. A patent-pending, FDA-approved, food-grade silicone cap allows the filter to be fully contained inside a Mason jar or water bottle, which keeps it out of the way so it doesn't interfere with the jar/bottle's original seal. As a result, your container stays leakproof and your coffee brews in an airtight chamber. An airtight chamber prevents oxidation (aka the "coffee killer"), so the bottom line is you'll end up drinking better-tasting coffee. The cap's shock-absorbing design also protects the metal filter from dents and rattles, helping ensure it can last for years.  

 

The Extendable Base (*found on the Rumble Go only*). The Rumble Go's silicone base features 11 different height adjustments that extend the filter by up to 1.5" so it can fit a wide range of popular 16-32oz wide-mouth bottles. The universal design means you can keep using your favorite water bottle or repurpose an old one that may have fallen out of use.  

 

The Mason Jar (*for the Rumble Jar only*). An ideal 3-in-1 brewing + drinking + storage vessel with a legendary seal. Our patent-pending design ensures that this legendary seal stays intact as originally designed, allowing your coffee to stay fresher since the jar remains airtight and resists oxidation. Of course, a good seal also keeps it from leaking all over the place. And if an accident happens and you ending up breaking your jar, the good news is how easy and cheap it is to replace a Mason jar. No need to shell out for an overpriced, proprietary piece of glass.

Want to see it in action? Watch our 92-second video 

Ready to shop? Click here
Discounts

Some ongoing promotions to help you save:

Free U.S. Shipping. All orders of $34+ are eligible.
Buy 1, Get 1 for 25% Off + Free Shipping. Discount is automatically applied to your cart as soon as 2+ items are added (i.e. no promo code needed).

These orders also come with Free U.S. Shipping.

Just buying one item? Our email subscribers get some exclusive discounts, including a discount on the first order. Sign up here to save on your initial order: Rumble Jar email signup 
Bulk orders of 10+ items are 25% off. Just email us with the details of your bulk order, and we'll send over an invoice with a 25% discount applied to the full order. Rumble Jar | Contact Us 

 
Shipping & Returns

Orders of $34+ qualify for Free U.S. Shipping. In addition to Free Shipping, customers automatically receive a 25% discount on any second item in their cart (see discount details).

Orders under $34 qualify for flat-rate shipping of $3 to anywhere in the U.S.

For additional shipping and returns info, please see our Shipping & Returns page
Instructions & FAQ

Brewing Instructions: Step-by-step instructions (with gifs!) can be found on our Brewing Instructions page, and we have a bunch of specific tips and tricks in our FAQs.

Cleaning Instructions: Our simple design ensures an ultra-quick cleanup. All of our Mason jars, stainless steel filters and silicone caps/bases are dishwasher safe. The only components that require hand-washing are Rumble Jar's reusable cotton filter bag as well as Rumble Go's optional insulated bottle.

More questions? We have a pretty thorough FAQ section. Otherwise you can always email us.
Share
View full details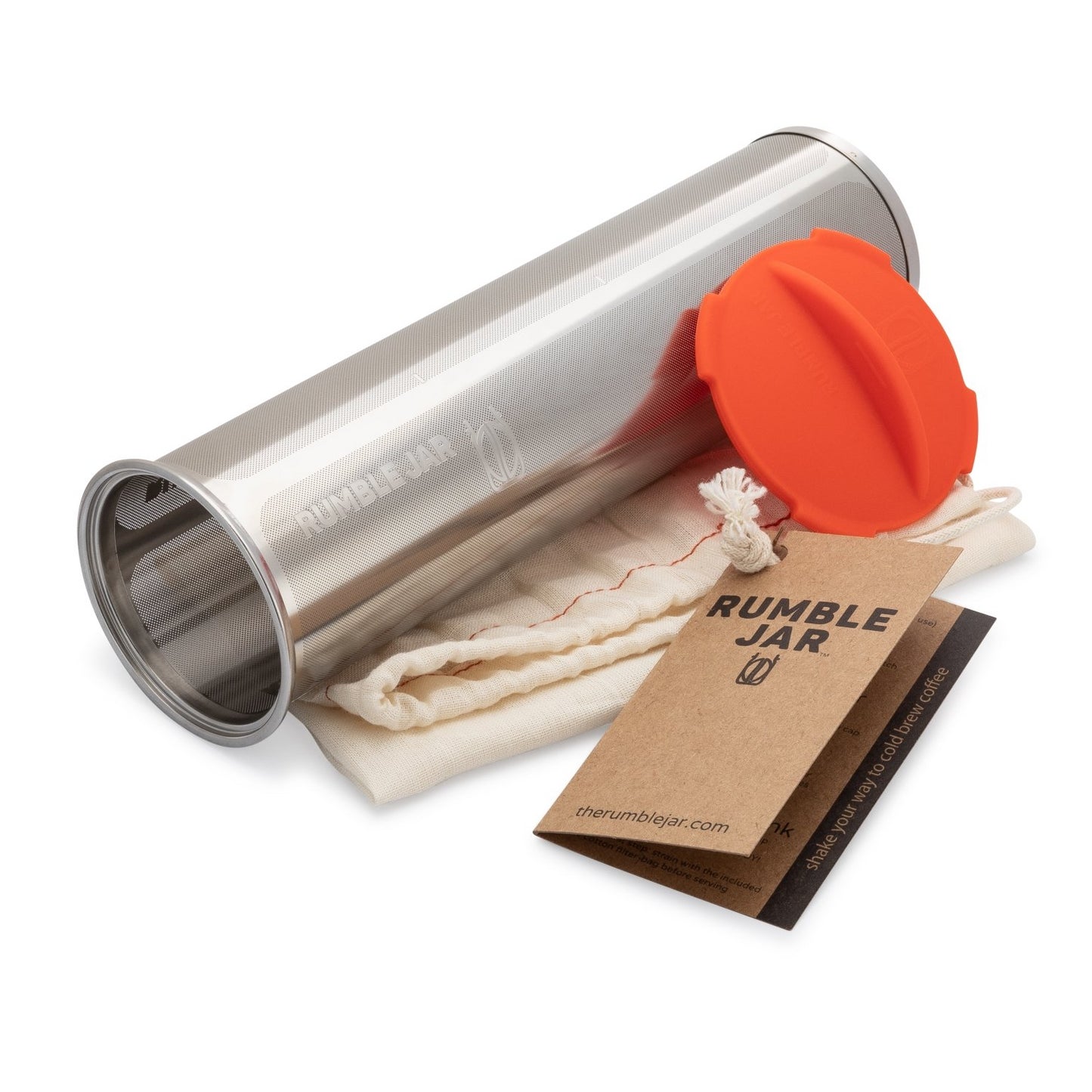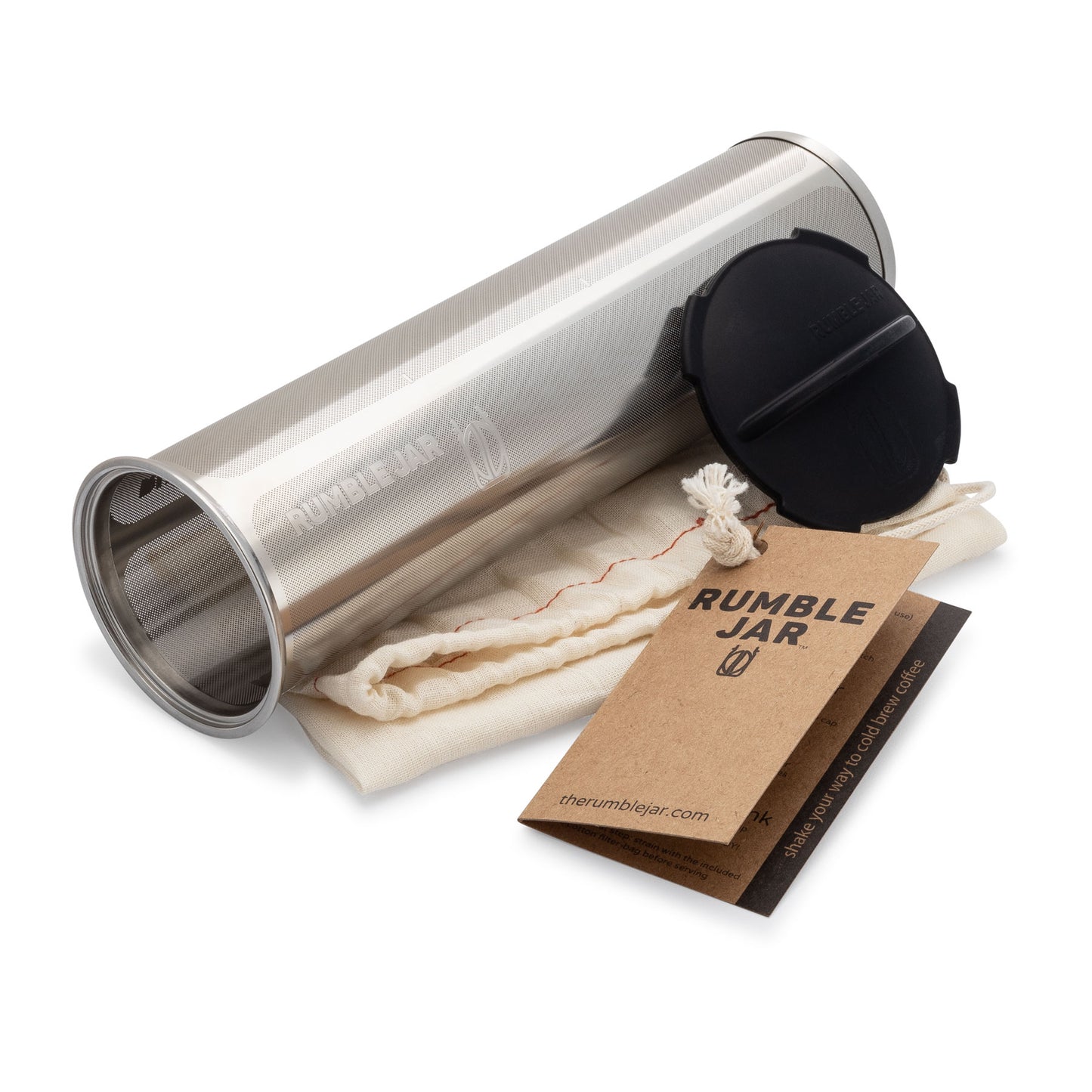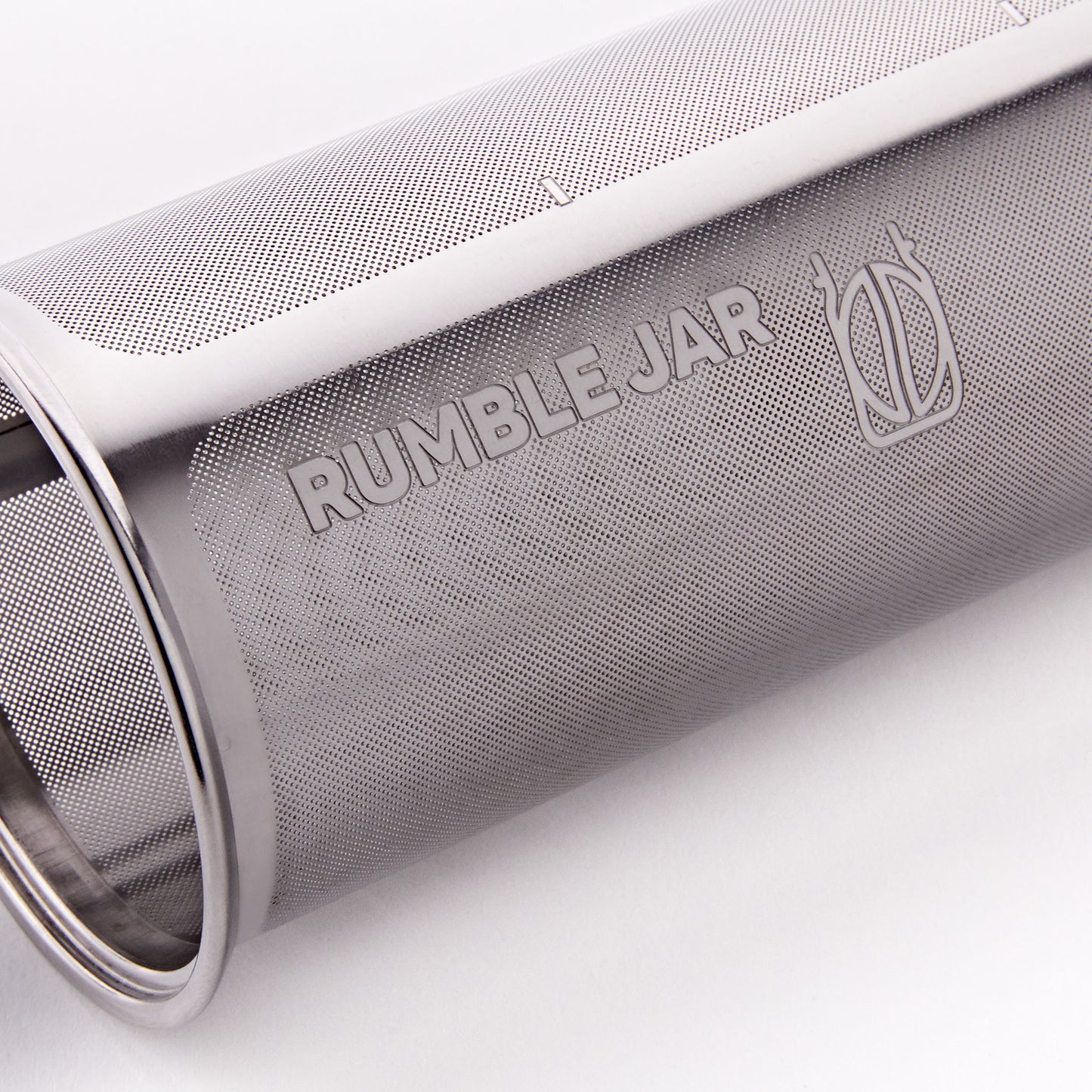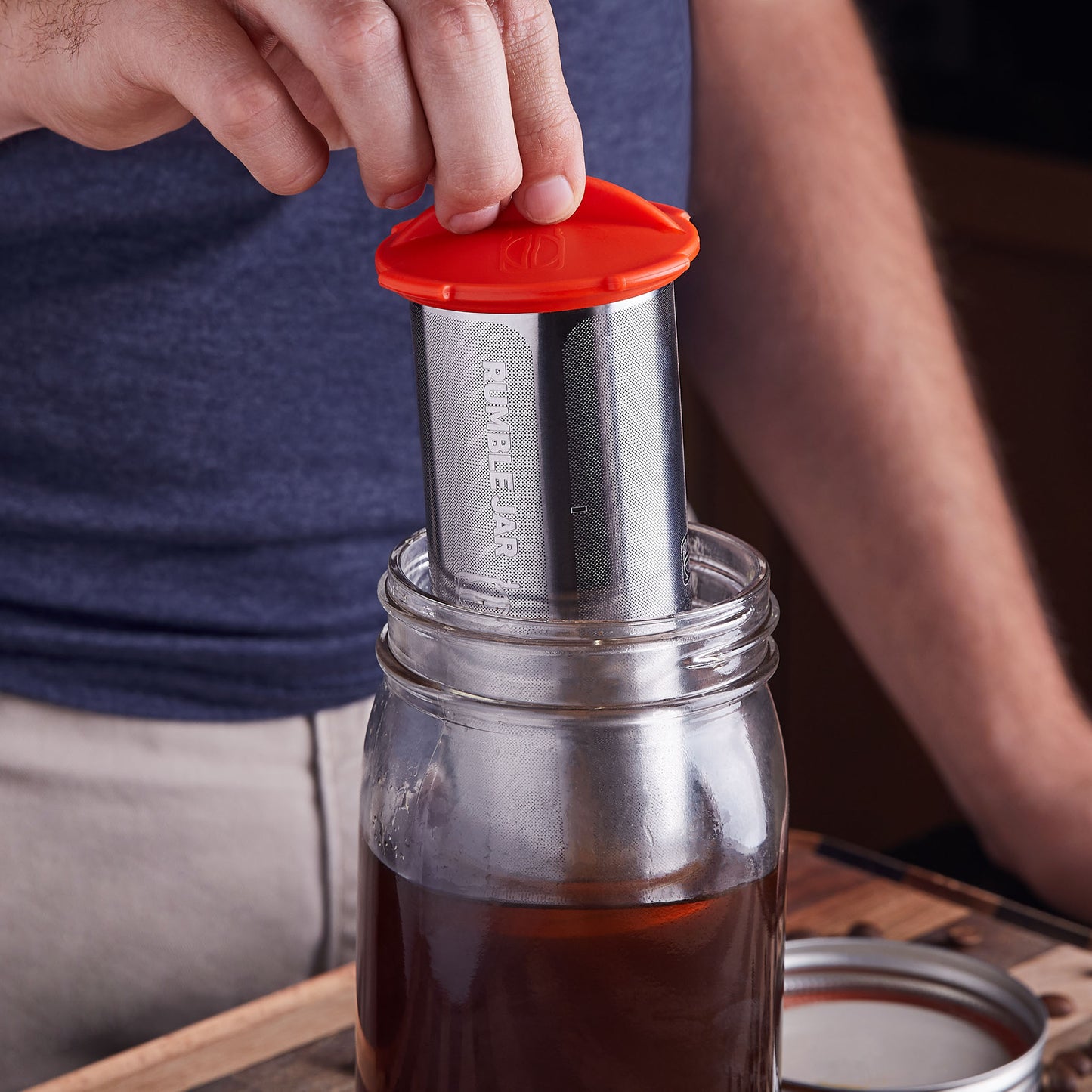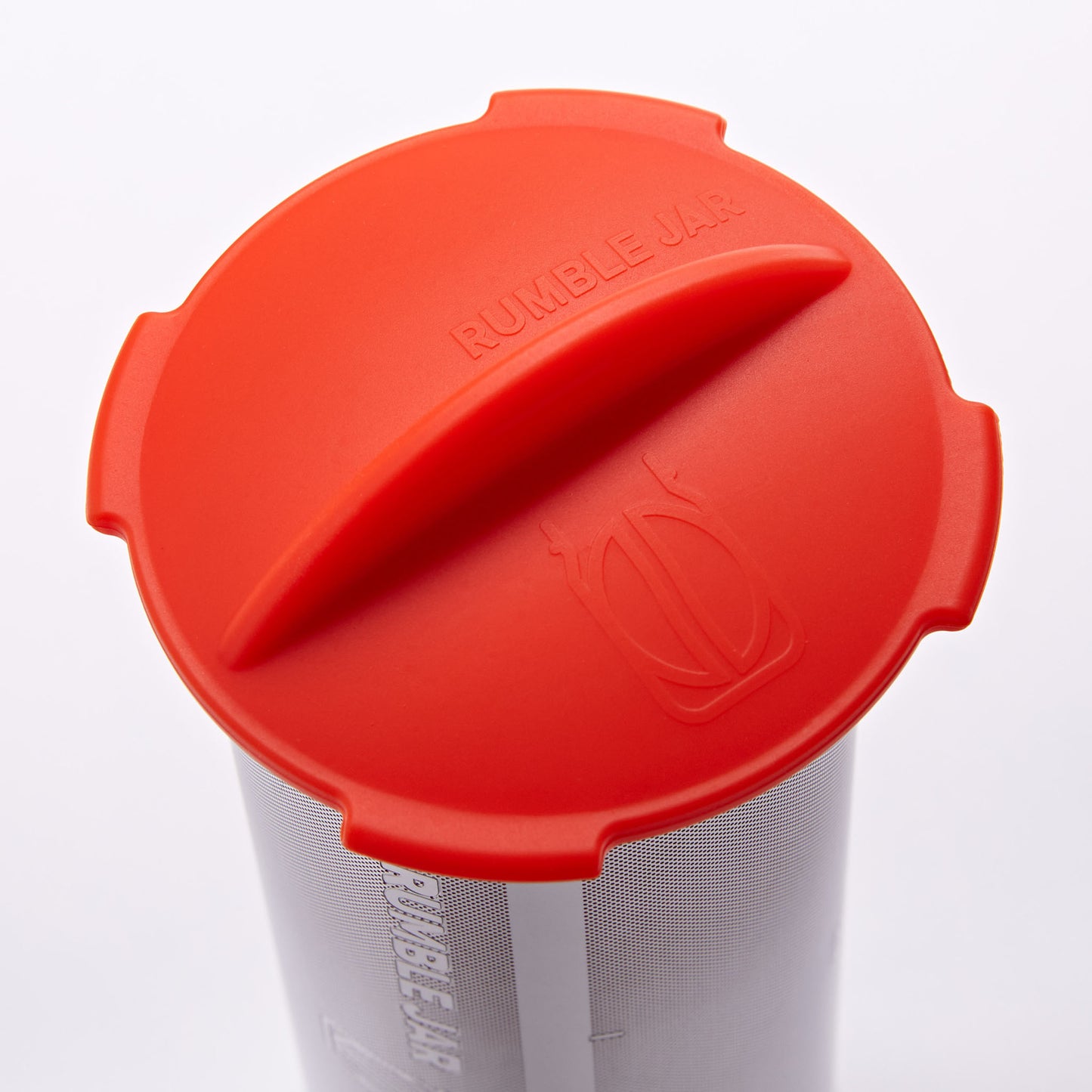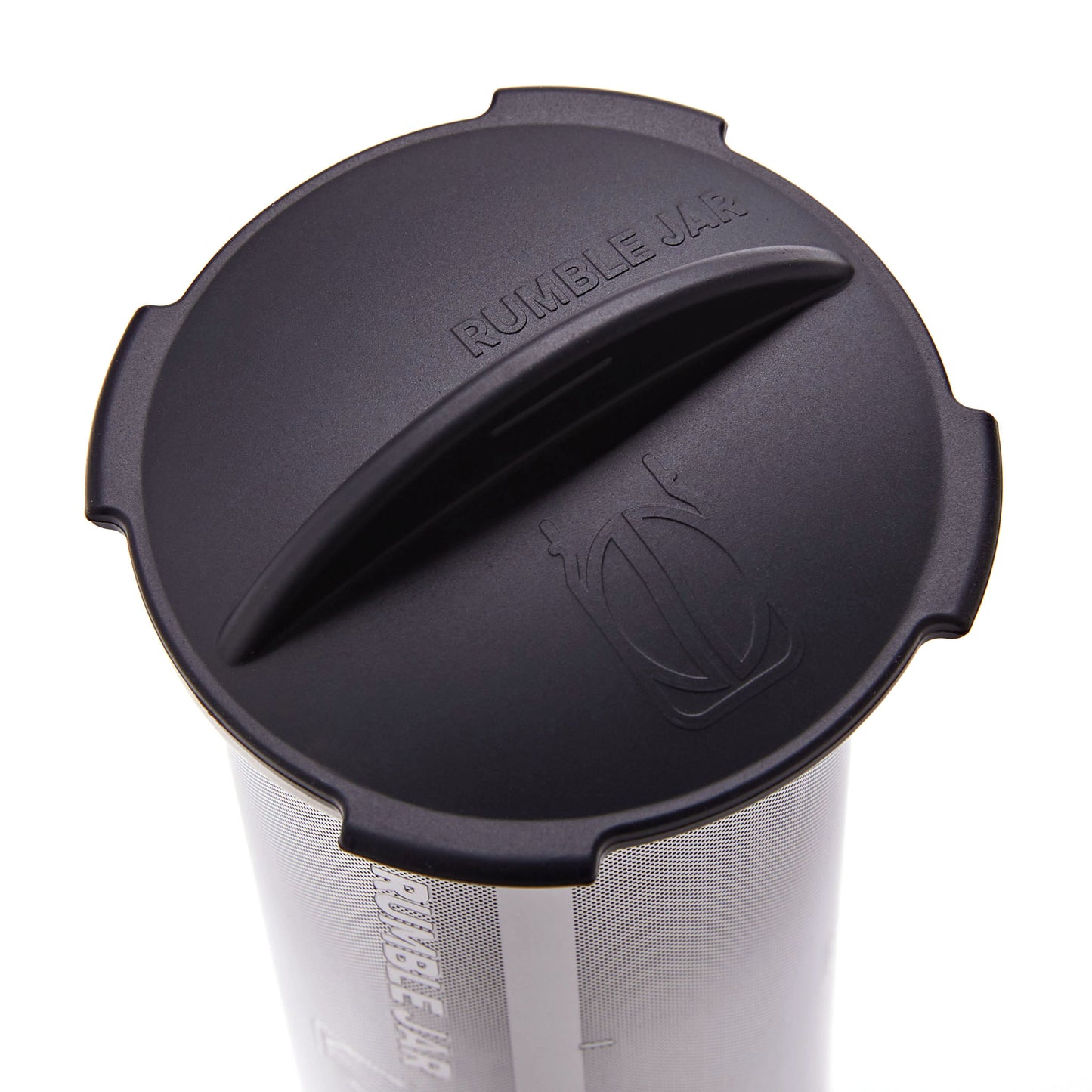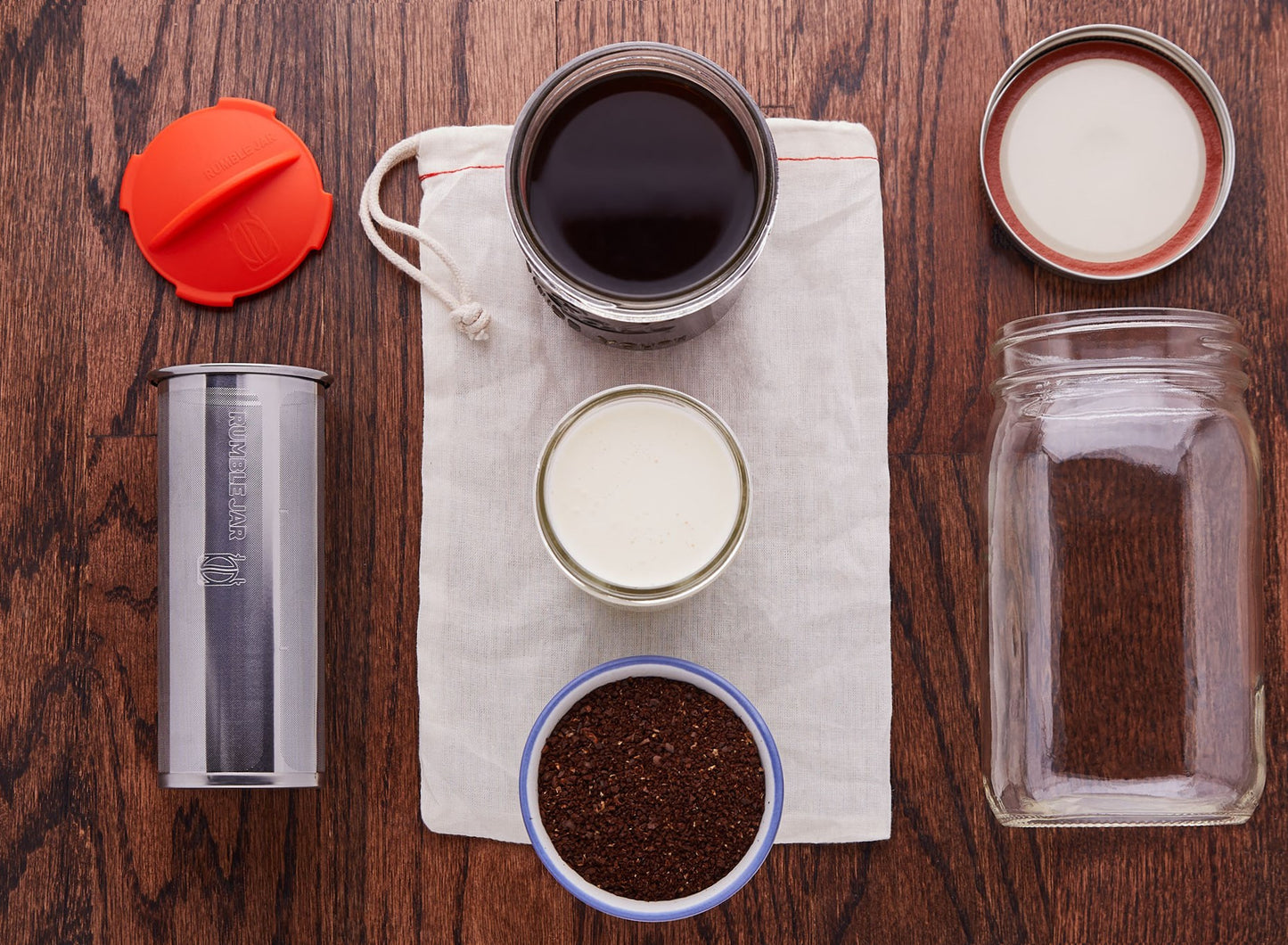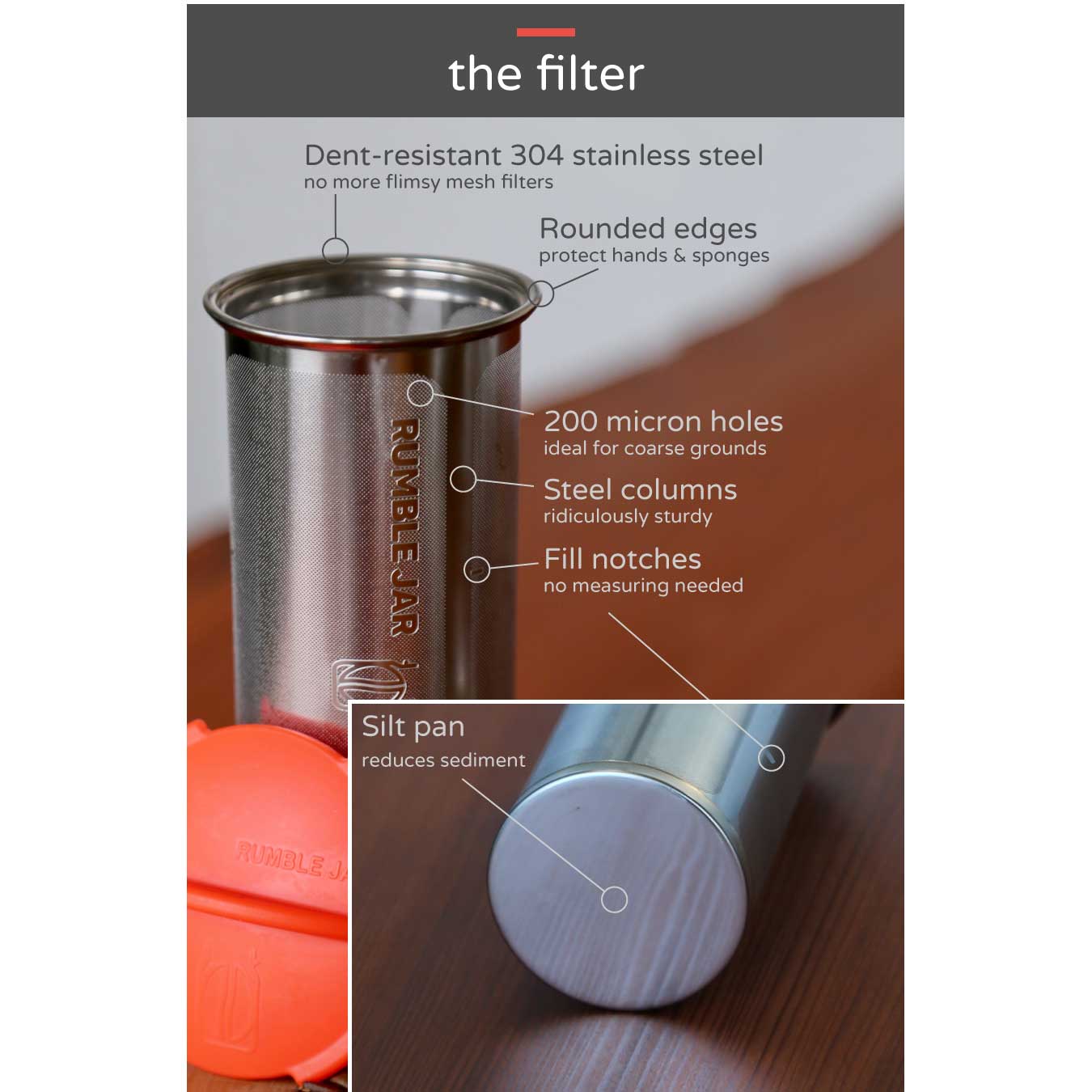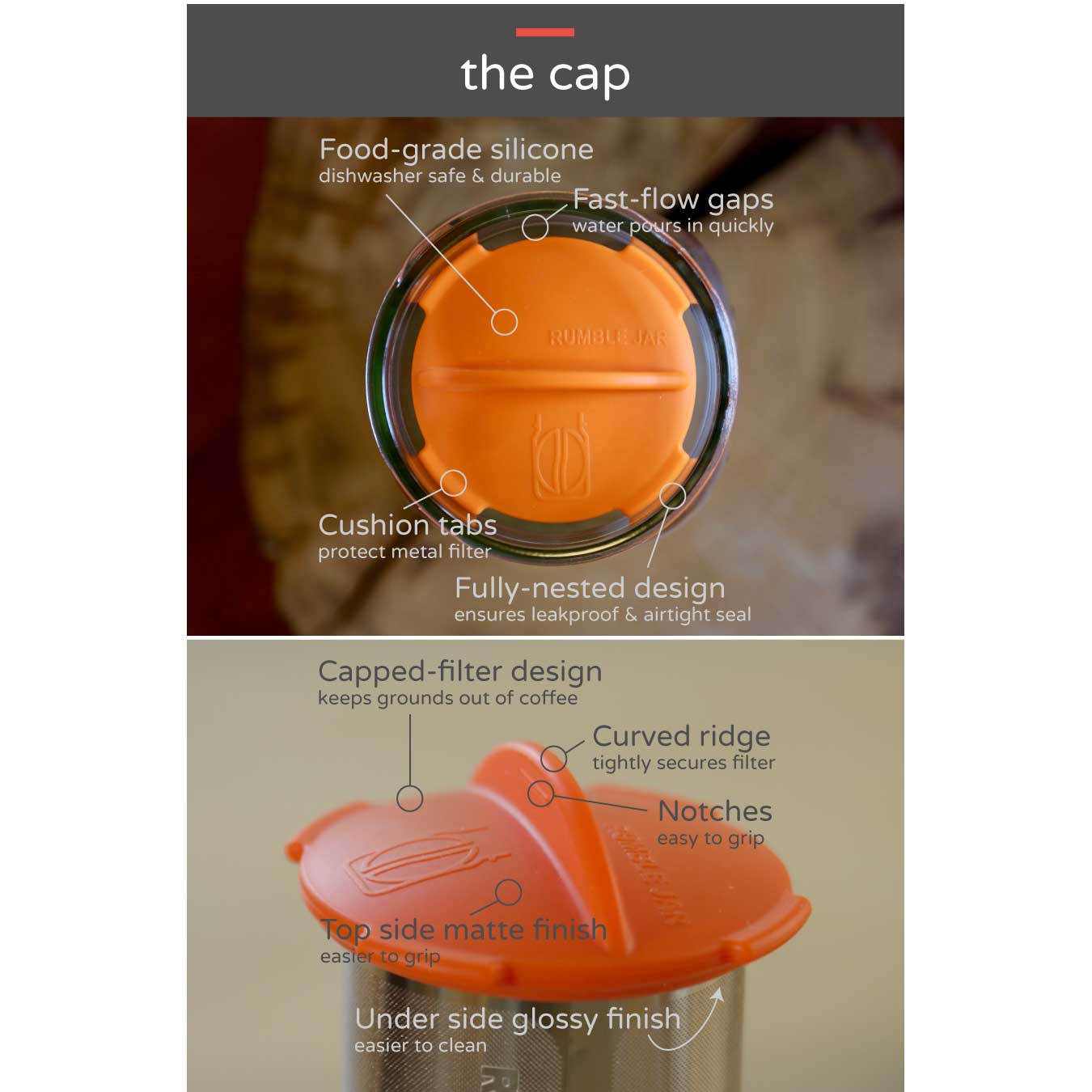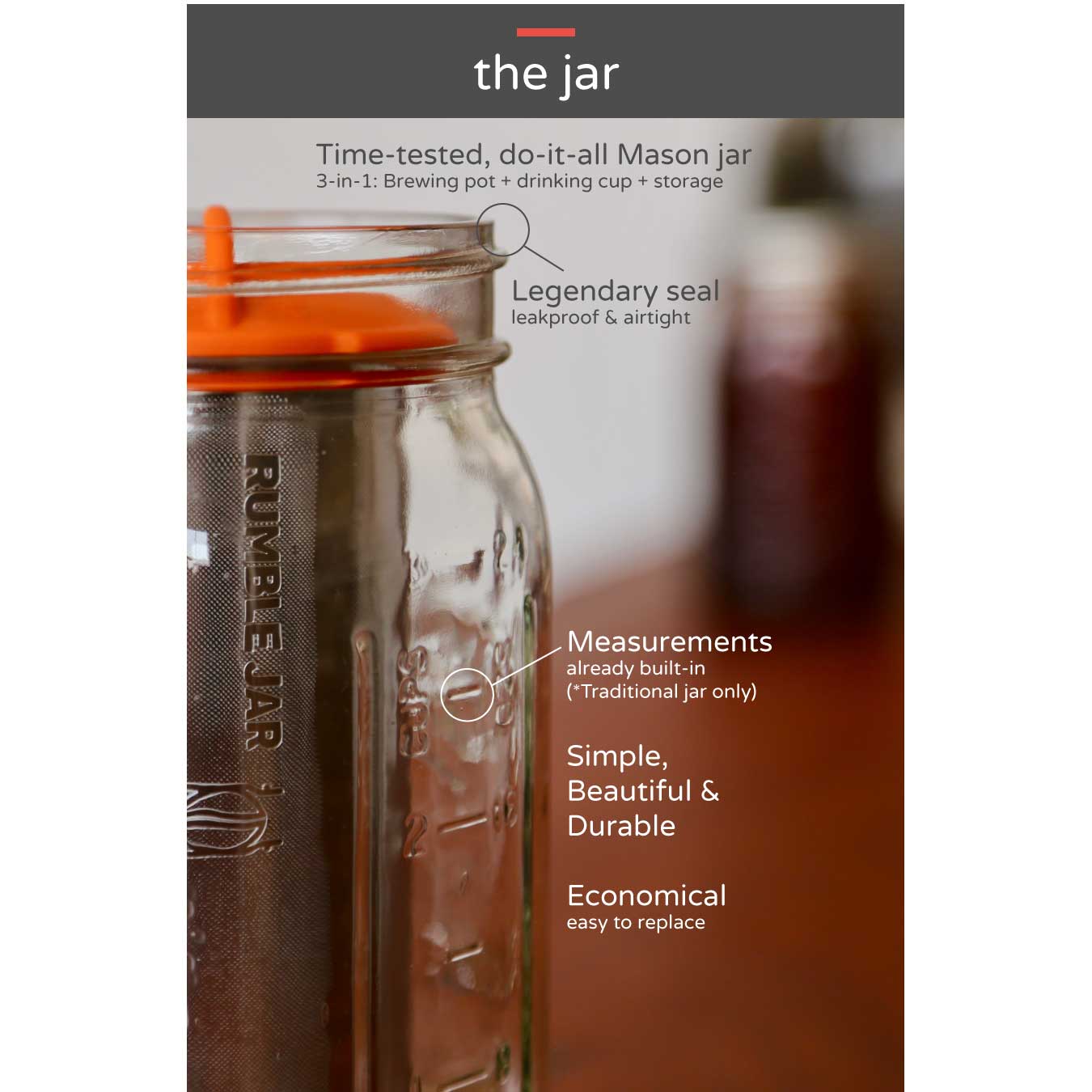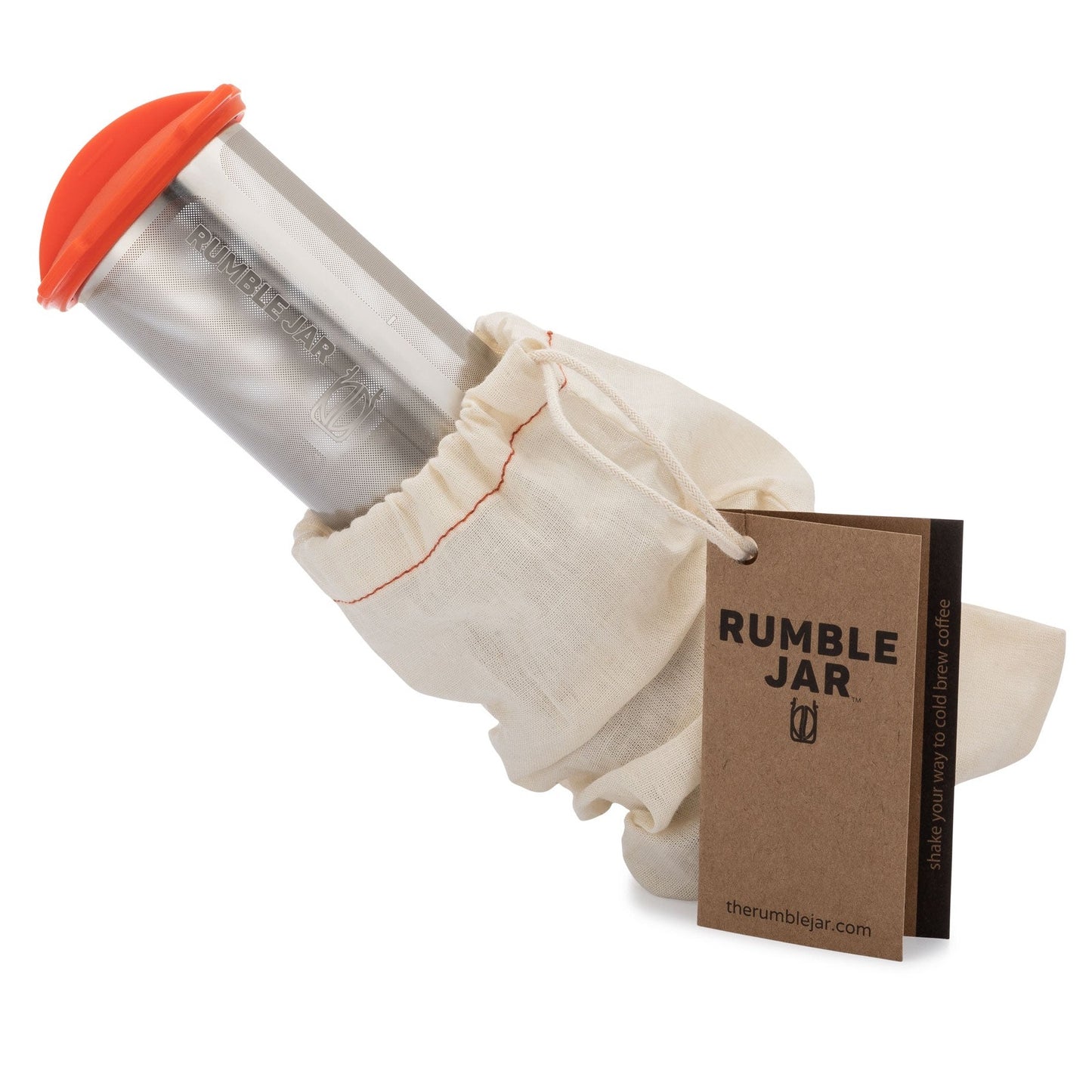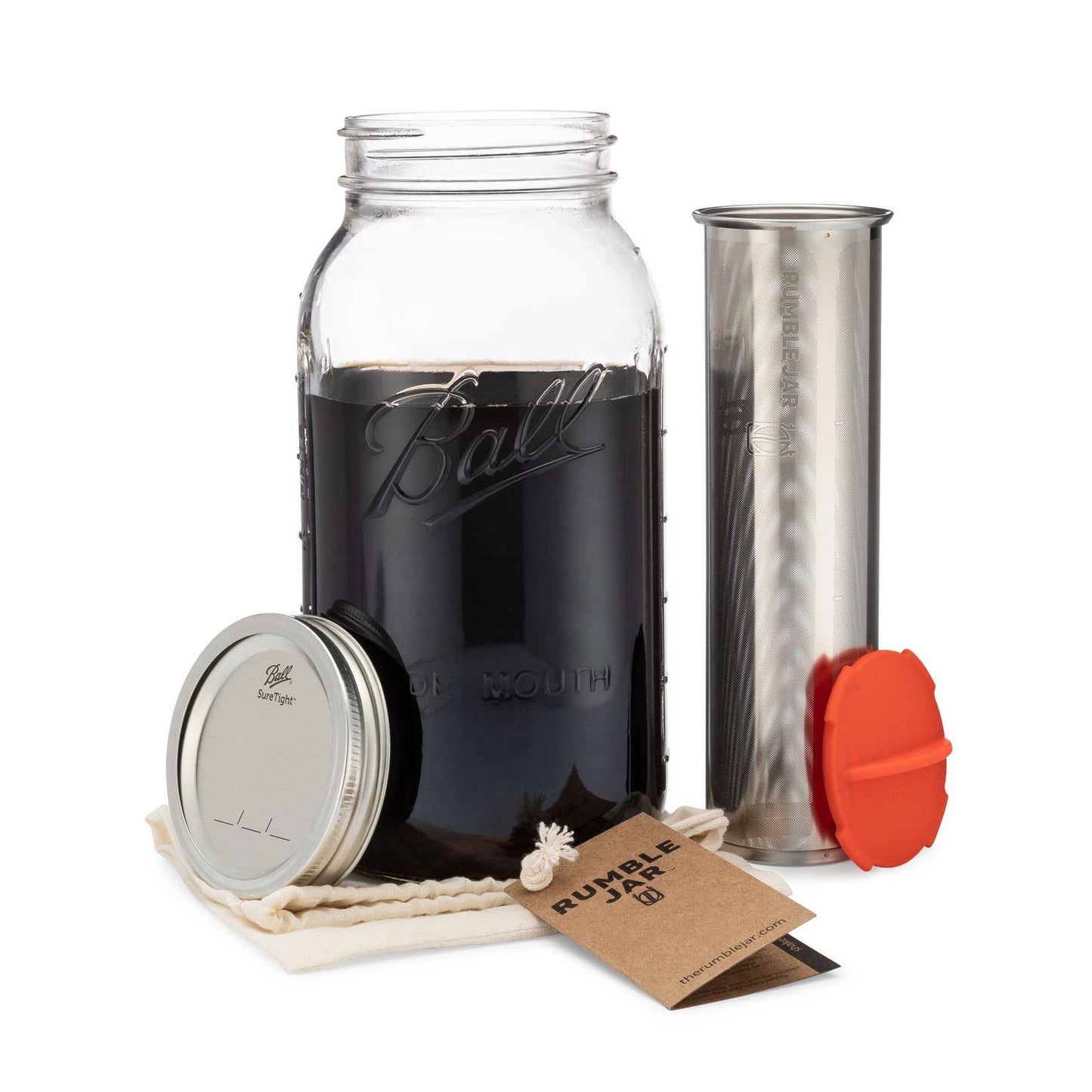 Free Shipping on orders of $34+

U.S. Shipping is free on all orders of $34+, so why not get one for your home and another for the road?

Automatic 25% Discount on any second item

Order 2+ items and you'll automatically receive a Buy One, Get One discount for 25% off your second item.
Prep time: 1 minute. Clean-up: 30 seconds.
A little filter with a big fan club
Easy to brew
Caffeine was hitting my blood pressure hard. I thought I was done with cold brew, but thanks to Rumble Jar and finding a Decaf Whole Bean, I'm brewing cold brew easily at home. I got the large jar version and my only suggestion would be to look on Amazon for a handle lid for wide mouth mason jars.
Better than my previous cold brew filter
Works great. The orange cap solves a huge issue. Coffee grounds love to float, and my previous workaround required me to spend 5 minutes to successfully fill my 64 oz container. The cap makes filling a breeze, under 1 minute! I wish the bottom was perforated, cleaning the filter can be hard without a sink hose.
So glad I bought this
I was hunting around, trying to find a decent filter to make cold brew when I came across the Rumble Jar. Most of the other filters I saw looked flimsy so I went with this. I'm glad I did. I'm trying to switch away from soda and move to coffee and this has made it very easy. I'm still getting used to the taste of coffee in the morning but this makes it easy to prep the day before.
The filter volume is a bit small, even for the half-gallon version— best ratio I've managed to get is 12:1, when I usually go for 10:1, or even 9:1. This was with a fairly coarse ground (#30 on my Encore); experimenting with grind size is my next move.
HOWEVER, using the rumble jar has made prep and cleanup *tons* easier compared to my previous method (cotton filter bag in a big jug), and that alone makes it a worthwhile investment. Four stars!
Rumble Jar is the best
We love the Rumble Jar. I bought the 64 oz filter because my family loves cold brew. In fact I bought 2 so I could always be "brewing". Easy to use.
Meet our next-gen cold brew filter
To build a better cold brew filter, we needed to re-think the tiniest details. It might look simple, but it's packed full of smart features. Come see what makes it a better cold brew filter.